Hello everyone, today I want to introduce you to my new beauty additions from the German drugstore. It´s been a while since I did a good shopping spree at my local drugstore, so there are a lot of products which ended in my basket. There is no specific theme throughout the haul, because there were some things I needed and wanted for a while and I am ready to show you in this post. On some products I can give you a sort of first impression, because I´ve already tried some briefly. But of course nothing thorough as I need to test for a longer time.
Brilliant Brunette Deeper Glow from John Frieda: The shampoo claims that it makes your brunette hair one tone darker and gives you more dimension For while I am not satisfied with my current hair color. It looks a bit washed out and dull. I need to mention though that I had an Ombré phase for about a year. The look actually never really suited me and my hair was suffering a lot. So last October I decided to go back to my natural hair color and dyed my hair similar to my natural hair color, which is a ashy light brown. For this I ´ve used the Lóreal Majirel Cool Cover. I loved the result and it lasted a good amount of time but know it seems that the color faded. But as my hair was pretty damaged I don´t want to dye it again right now, I was looking for an alternative. And along came John Frieda with their new launch and instantly caught my eye. I´ve already used it twice and tell you my first thoughts about it. The shampoo itself is quite pigmented and liquid. I put the product all over my hair and leave it in for about 3 minutes. After that I use my normal conditioner. For best results I should maybe use the conditioner of that range but I wanted to stick with my current conditioner, because it works very well for my dry hair. When I dry my hair I can really tell the shine that the shampoo gives me and it leave my hair really nourished and soft. I can´t tell already if it does make my hair a tone darker. Really not able to tell. But I have the feeling that it gives me something that it lifts my current color. What I don´t like, is that it enhances the red pigments in my hair. So my hair gets more warm toned and I actually prefer a cool toned brown. But I will keep testing it out.
Cream Blush from Terra Naturi Naturkosmetik: As I was strolling through my local drugstore was this cream blush in the color 02 Braun. In general I am a huge fan of cream products for the cheeks. It makes the skin look more dewy and fresh. That´s also the case with this cream blush. It is very creamy and easy to apply. I like to apply it with my fingers. The color pay off is not that intense which I don´t mind. The color is a warm toned brown which is great to use to get fresh, warm look without necessarily use a bronzer. For those you live in Germany and don´t know the brand yet, you can get this at Müller Drogeriemarkt.
Bronzer C01 Hot TANts from Catrice Cosmetics: In case you you want a bronzer for your make up look than I can introduce you to the new Catrice bronzer from their Denim Divine limited edition. First of all look at this nice grid pattern matching the packaging. Really nice for drugstore products to see a bit of a different style. But what´s more important is the product itself and not the guise. The bronzer is very smooth and finely milled, which is actually not so easy to find at the drugstore. It has a wonderful sheen to it without any trace of glitter. The color is either too orange nor too cool toned. So I can see myself using it for warming up my face, all over or even for a little bit of contouring. In my opinion a bronzer that suits a lot of skin types. Definitely worth picking up.
Velvet Matte Eyeshadow from Catrice Cosmetics: The products from this brand in general are just the bomb. Really good quality for a really reasonable price. But Catrice is really famous for their amazing eyeshadows. I already own a couple of them and still can´t get enough of them. This time I decided to go with the color 070 Princess Mattelein. The color is gorgeous muted pink which is a perfect everyday color. The texture is really smooth and blend-able. And although it is matte it has a beautiful shimmer. Therefore you could also use this shade like a blush/highlight.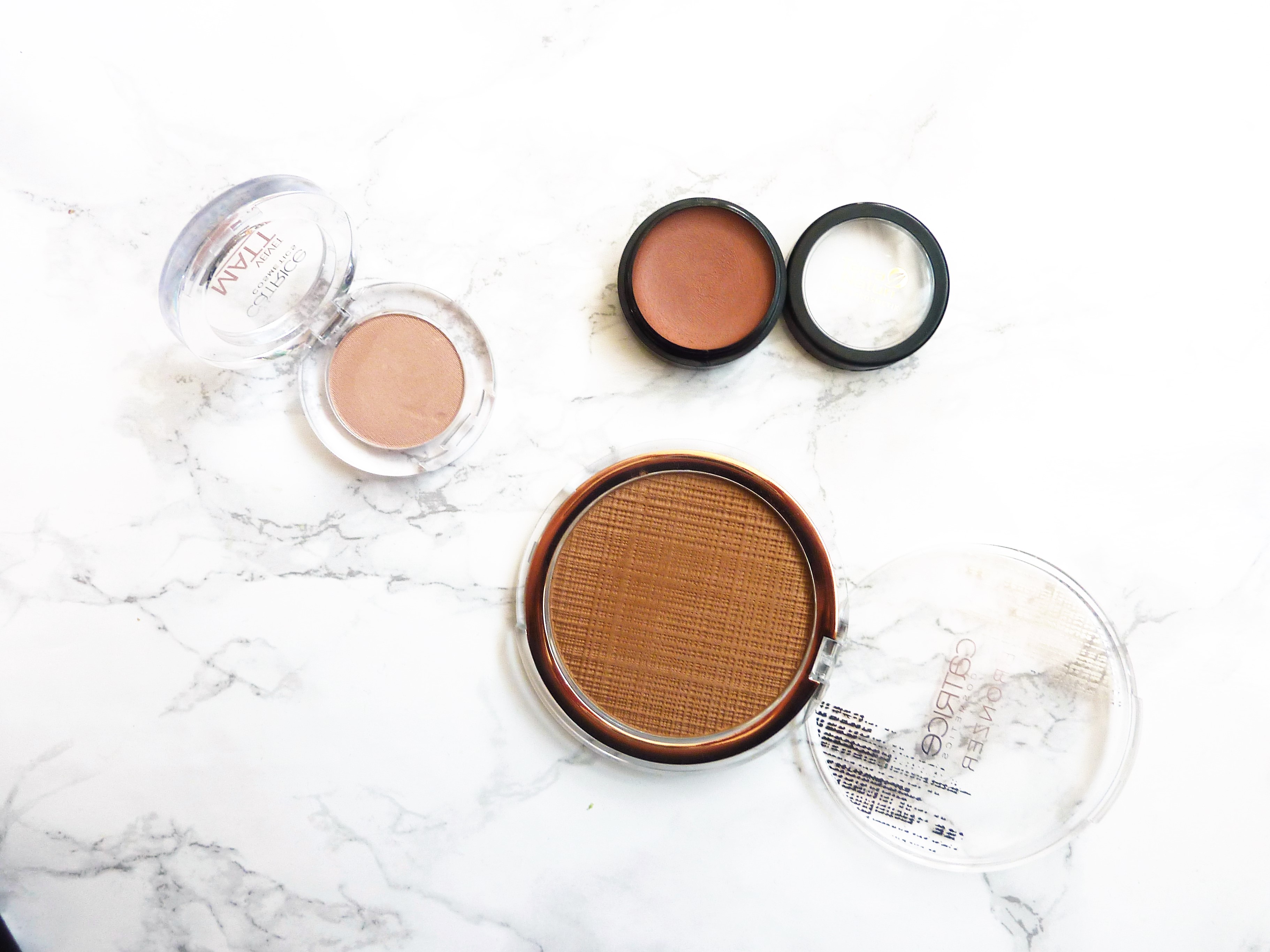 Contour Brush from Ebelin: Ebelin is the own brand of the biggest drugstore supermarket dm in Germany. They recently launched the Contouring Collection. As the name indicates it is all about face brushes. The collection includes six single brushes and a make up sponge. The the one that caught my attention was the this flat one which should be perfect for creating shadows on my face. At the German drugstore there is nothing like this brush, so I needed to use this opportunity. I didn´t use this yet, so I can´t tell anything about its actual performance. The only think I can tell is that it soft and softly bound. I´ve read mixed opinions about the Ebelin brushes and I need to give it a try myself to make my own opinion about this contour brush.
Strobing Set from Max Factor X: This is definitely the highlight of my whole purchase. I am all about the glow. So when I saw this kit, I couldn´t help myself. The great thing is that you get three products for almost the price of one. I spent about 12 € for it, which is an absolute bargain considering the amount of products. I never tried one of these products before but always wanted to. I read a lot of good reviews on the eyeshadow and the highlighting stick. To make sure about the shades and the consistencies, I´ve tried them separately at the drugstore. Now was my chance. The kit comes with the Skin Luminizer Foundation in 50 Natural, the Masterpiece Colour Precision Eyeshadow in 05 Pearl Beige and the CC Stick Highlighter. The kits come as well in 3 variations and just the shade of the foundation changes. The rest stays the same in the rest kits. I´ve bought the lightest shade. I am really excited to give this a proper test. In Germany this kit is only available at dm. So if you are interested to this, hurry up and grab them!
These were the beauty products that found a new home in my make up drawers. I hope you liked it and please leave me comment about your latest purchases from the drugstore.