I recently started my little series about my trip to Colombia. If you missed the first post of this series, just catch it up here. This part is about suggestions what to do in the city Armenia and the Department of Quindío.
Armenia: From Pereira, you need about half an hour to get there. The city is a little bit smaller than Pereira and has got nice shopping streets. The city is one of the most important places for coffee production in Colombia and lies in the heart of the country. The cafés I would really recommend to visit, are Coffee Brewing and Café Quindío.
Coffee Brewing lies at the beginning of Carrera 14, right on the other side of the Parque de Sucre . There, I drank one of the world´s best espressos. Extremely yummy. The café itself is pretty stylish and has an industrial charm to it. I fell in love with their wall painting. I´ve already put up a picture of it on Instagram. The painting displays the coffee ancient harvest and the colorful Andean Momot. A beautiful, shy bird that functions as a kind of symbol for the coffee farmers in that specific region. I am seriously planning to have a painting like this as well. All in all it is just a really cool place with great coffee. The other café I can
recommend is the Café Quindío on Carrera 14, right next to the Parque De La Vida. You find various cafes of that brand in the region (of course), but this one is especially pretty and a bit more fancy. It is their flagship café. The café´s color arrangement is beautiful and there are a lot of woody elements, that reminded me of a traditional Colombian farmhouse. They have a great variety of coffee and the staff helps you to choose the right coffees for your personal taste. Next to the Café Quindío is the beautiful Parque De La Vida. The park is so inviting and you can spend a lot of time there. It is quite big and as you walk around you can watch the colorful birds and so you almost forget that you are in the middle of a city.
Panaca: Another thing to do in this region, is to visit the theme park Panaca.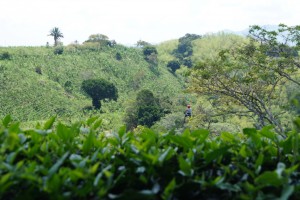 The park is all about animals and nature. Sounds a bit odd, but it was really interesting. The biggest economic power of Colombia is agriculture. So it was ,really nice to learn something about that. The most fun things to watch, were the animals and the shows. I love the city, but I grew up on the countryside, and I like a bit of a farm feeling. My heartbeat was getting stronger, as I saw the pretty little calves and piglets. I even had the opportunity to feed them. My mother feelings were so pleased at that moment. The park itself is really beautiful and just a pleasure to walk around aenjoying enjoy the nature. Another thing you can do, if you are looking for more action, is a Canopy Tour. The steel rope spreads all throughout the park and you just hang in there and glide 25 minutes through the whole park. This is a whole new way to experience nature, and the view you have on the landscape is just phenomenal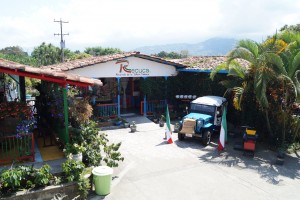 Recuca: I´ve already mentioned this place in my post about my ultimate coffee experience. But this time I want to explain the concept of Recuca in more detail. At this place you get an entertaining tour about the whole processe of coffee. You learn almost everything about coffee, farm live, traditions and coffee culture trough little plays and shows, where the visitors participate too. What I really loved was learning about the coffee harvest and the later process. My highlight was to dive in between the coffee plants and to do some harvesting myself. During the tour you get some agua de panela (a traditional lemonade made with brown sugar and lemon juice) This drink is a very popular one, especially on the countryside. The place itself is very elaborated, with a lot of authentic and detailed decorations. You can feel that there is much love behind this project. At the end, you have the opportunity to enjoy a classical Colombian farmer lunch.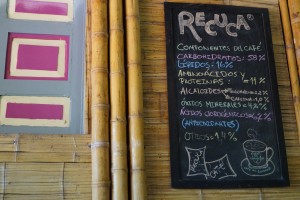 Traditionally it contains beans, rice, fried bananas and a piece of chicken or pork meat. We ordered lunch there, and it was really delicious. And last but not least you can buy their coffee. Recuca is not just a place for entertainment, but also a typical hacienda where they produce a lot for exportation. I bought one package of their premium selection. I still did not open it, but I know that is excellent because we got a cup of coffee during our tour. Go there by the time they open, because there are less people and the sun isn´t that strong yet. You will be lot outside, so you need to be careful and protect your skin from the sun.
This was all about my experiences in Armenia, Panaca and Recuca. In the next part I want to talk about two more places in the department of Quindío. They are so beautiful that it is worth to dedicate them a whole blog post. Let me know, which places you found the most interesting.